Zliz's EverQuest Compendium is a complete resource for information about EverQuest 1.
On the site you will find information about getting started with EverQuest, the mechanics of the game, technical reference, and much more.
The site is a work in progress, and will be updated with new content as time goes by.
New and Returning EverQuest Players
Welcome, or welcome back! :) EverQuest is alive and well, and being actively developed. Join or re-join the world of Norrath and experience a vast amount of content in a solo- and casual-friendly setting, yet with many brutal aspects of the ancient EverQuest retained.
Take a look at the following articles to help get you up to speed:
Download and Install EverQuest
Read about EverQuest's subscription and Free to Play model
Choose a server and read about different ways of playing EverQuest
If you're already schooled in the basics of the game, take a look at any of the articles in the menu on the left.
News
September 16, 2016
An update (version 7) to my Classic EQ map tool ZlizEQMap, particularly useful for Project 1999, has been made available. It now includes a Plane of Growth map plus many previous fixes and features.
July 07, 2016
It's no secret that I'm a big fan of The Plane of Sky. Over the years I have gathered all the keys, slain all the bosses, completed every Monk quest up there, not to mention visited it countless times for epic quests. When a lonely player in general chat asks for help in Sky, I'm always there to help.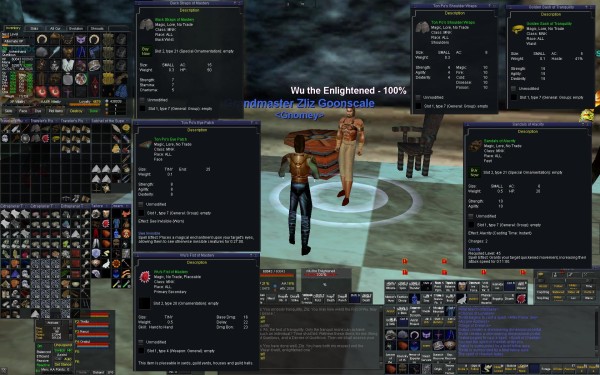 All Monk quests in Sky completed.
A while ago, the best guide for the complex zone, Drexxell's EQ Plane of Sky Guide, went down and was no longer accessible online. I had made a mirror (backup) before that, and was able to re-host the guide on this side. You can find it here:
Drexxell's EQ Plane of Sky Guide @ zlizeq.com
On the ZAM site for The Plane of Sky, Drexxel himself noticed this, and replied to me that he too had re-hosted his own site, which can be found here:
Drexxell's EQ Plane of Sky Guide
The more mirrors the better, so this treasure of a guide can be preserved.
If you haven't visited in a while, here are a few things that have changed in Sky over the past few years:

The keys now go on your keyring the first time you use them.
You now retain your buffs upon teleporting into Sky, making it more tolerable to do a casual visit.
As an additional note, while certain bosses still Death Touch, don't let that scare you off if you're a high-level player. A Death Touch is the spell
Cazic Touch
, which does 100,000 damage. With the Spell Shield Mod2, which maxes out at 35%, a player will take 65,000 damage, which is easily obtainable at level 90+ depending on gear and buffs. That's right, you can just eat the death touch and carry on.
Happy hunting!
January 11, 2015
Two new pages have been added that showcase some of my two other related EQ projects:
ZlizEQMap is a map tool mainly designed for servers that emulate old versions of EverQuest. It features a local database of maps from the old EQAtlas website, along with player positioning (x plotted on map), transparent overlay, waypoints, zone connections, and more. It has been made for Project1999 and The Al'Kabor Project.
ZlizUI is my EverQuest (Live) UI project; a minimalist and sleek UI.
August 16, 2013
An in-depth article about Keys & Lockpicking has been added. View a full list of all keys in the game, how Pick Lock works, and how to circumvent locked doors as a crafty Gnome. :)
Furthermore, the Zone Level Chart has been updated with a list of zones no longer in the game, at the bottom of the page. Remember Oasis of Marr?
August 09, 2013
Many articles have been updated. Here are some articles you might enjoy reading:
In addition, a search box (Google Custom Search) has been added in the top left. Try searching for something, for example 'teleports' or 'macros'. I'm still working on customizing the results page, as its color theme doesn't really fit the rest of the page, but its core functionality should help you find stuff you're looking for.
July 31, 2013
Zliz's EverQuest Compendium has launched! :)
This site has been a project of mine for a while, and is now online. I have a ton of articles in the pipeline, which will appear in the menu on the left as they get finished over time.